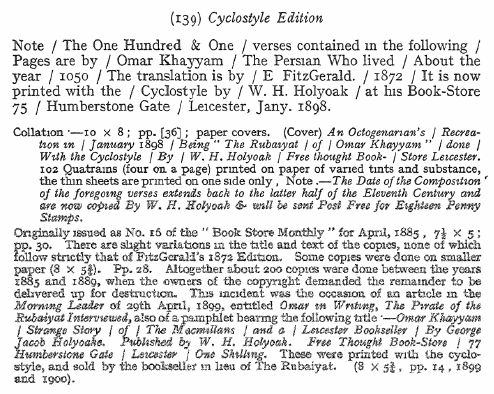 One of the more intriguing entries in Potter's Bibliography of the rubáiyát is number 139, the 'Cyclostyle Edition'. There are several aspects that draw attention to this edition.
First there is the title 'Cyclostyle edition', suggesting an early adaptation of advanced office technology: cyclostyles were only invented in the early 1880's. Second there appears to exist a number of versions of this edition, published from 1885 unto 1899 in various forms and formats, under varying titles and printed in varying numbers of copies.
A more fascinating aspect however is the interference with Holyoak's work by Macmillan, the London publisher who had acquired the copyrights of FitzGerald's work. They regarded Holyoak's printings as a serious threat to their business and threatened him with a court action. The affair drew the attention of G.J. Holyoake who came to his namesake's defence.
Finally there is the nature of Holyoak's editions, which are issued in a limited number of copies, and being handwritten and printed with the cyclostyle, they were probably regarded as somewhat ephemeral printings. The various editions differ in a number of details such as misspellings or choice of paper. If copies have survived outside libraries, they are probably very rare.
The cyclostyle editions of the rubáiyát have never drawn too much attention, and until recently hardly anything was known about them. Only when a proof print copy was offered for sale a few years ago, which was purchased by a private collector, a search was initiated by John Drew and myself to find out more about the editions and the actors involved. These efforts resulted eventually in the discovery in the USA of a copy of the original "Book Store Monthly" edition of April 1885.
An extra feature to the story was to find out how Holyoak's selection had its roots in an earlier pirate Rubáiyát: the so called Madras edition of 1862. John Drew has published about this before.
The story of this highly interesting piece of rubáiyát history is now recorded, together with documents and publications, in a pamphlet called The erring finger writes. The Leicester pirate cyclostyles of the Rubáiyát of Omar Khayyám, by Jos Coumans and John Drew (Cambridge Poetry Workshop, 2015). ISBN 978-1-871214-26-0.
A copy can be ordered at £ 6,00 from cambridgepoetry@hotmail.com or € 7,50 from info@omariana.nl.