Edward FitzGerald's "Rubáiyát of Omar Khayyám" and Related Materials.The John Roger Paas Collection. Edited by John Roger Paas. Wiesbaden, Harrassowitz Verlag, 2023. 1184 pages, 3 parts. Part 1+2: Text, XXII, 872 pages; Part 3: Plates, 312 pages.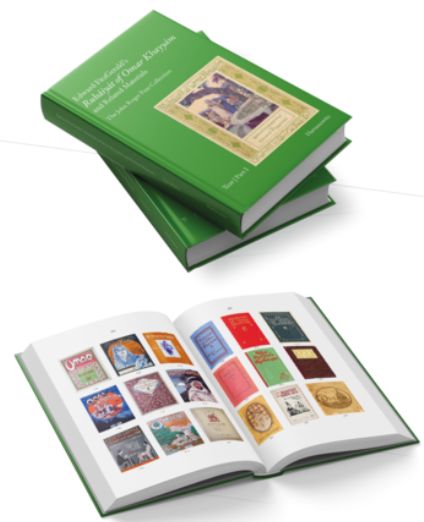 This catalog describes the private collection of Rubáiyát-related books and materials, covering more than 7,000 items. Part I lists the versions of the Rubáiyát, Part II shows references to the Rubáiyát, Part III describes the Rubáiyát in popular culture whereas Part IV includes related FitzGerald items. All this is recorded in three beautifully edited, large volumes. Volume III is an absolute eye-catcher showing over 2,000 book covers in colour.
What makes this catalog absolutely unique is the enormous amount of editions and publications, described in detail, but even more so the records of the individual versions issued by the commercial publishers like Crowell, Barse and Hopkins, Hurst and Company, Collins, Macmillan, Harrap and many more.
Besides that, there is a wealth of bi(bli)ographic information on publishers, translators, artists, which makes this work an indispensable instrument for the serious study of the translations, editions and reference material of the Rubáiyát.