The tribute was organised by the Pakistan-Norway Association (PANA) on February 1, this year, with a buffet, a fruit drink and a lecture by a Central Asian expert on Khayyam and poet Prof. Aftab Kazi.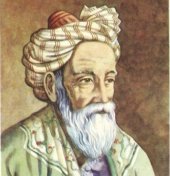 Quatrains from Khayyam's poetry were performed by Opera singer Lynly Butt and the film on the life and times of Khayyam "The Keeper — The Legend of Khayyam" was screened. However, in Professor Kazi´s view "the directors and producers commercialise and distort the history."
Read more about the event in The Express Tribune of February 3, 2014.