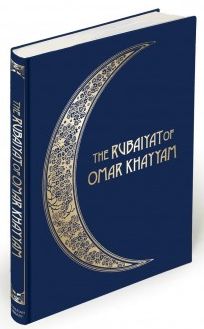 Bodleian Library issued a reprint of the edition of the Rubáiyát that was illustrated by René Bull (1872-1942). Bull started his career studying engineering in Paris where he soon switched to the art of illustrating. When he settled in London in 1892 he started to draw for newspapers and magazines, and from 1898 till 1900 he worked as a photographer in India, Sudan and South Africa, where he covered several campains. Bull also illustrated "The Arabian Nights", "The Russian Ballet" and "Andersen's Fairy Tales".
There is an introduction by Susan Scollay. The original twenty-nine coloured illustrations are reproduced, though in another sequence, as well as the drawings and decorations, here printed in brown colours. The text is printed with varying decorative borders above and below.
Though this new edition is less exuberant than the original by Hodder & Stoughton, 1913, it has a certain air of luxury because of the dark blue cloth binding with an imprint in gold, and the heavy 135 gsm Tatami Ivory that it is printed on.
Earlier issues of Bull's edition were done by the Golden Medal Library (London, New York, 1927), Grammercy Books (New York, 1992) and Smithmark Publishers (New York, 1995).
"The Rubaiyat of Omar Khayyam. With illustrations by René Bull." Oxford, Bodleian Library, 2014. ISBN 9781851244171. Available from the Bodleian Library Bookshop, at £ 30.00.