Recent editions of the Rubáiyát of Omar Khayyám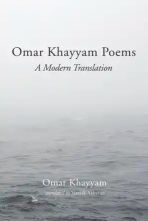 Omar Khayyam. Poems. A modern translation. Siamak Akhavan. Eugene : Resource Publications, 2021. xv, 45 p. ISBN paperback: 9781666715507; ISBN hardcover: 9781666715514.
"This book presents a selection of Khayyam's poems in their original Persian language along with their English translations in a faithful and modern version." [From back cover]
---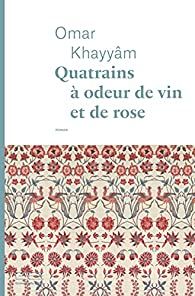 Omar Khayyâm. Quatrains á odeur de vin et de rose. Variations de Patrick Reumaux. Paris, Éditions Emmanuelle Collas, 2021. 92 p.; 19 x 12,5 cm. ISBN: 978-2-490155-27-9.
Contents: Le mystère de la création, p. 7 — La douleur de la vie, p. 15 — Prescrit de toute éternité, p. 21 — La roue du temps, p. 27 — La matière environnante, p. 37 — Advienne que pourra, p. 45 — Rien, p. 57 — Cueillons l'instant, p. 63 — Comment ne pas être persan, p. 79 — Omar Khayyâm et ses rubaiyat, p. 89.
---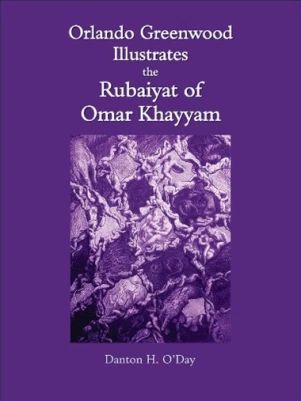 Orlando Greenwood illustrates the Rubaiyat of Omar Khayyam. Danton O'Day. [S.l.], Blurb, 2021. ISBN: 9781034492504.
Orlando Greenwood (1892-1989) was a brilliant, talented artist, who already at the age of 21-22 felt stronlgy attracted by the verses of Omar Khayyám. His illustrations to the Rubáiyát were recently discovered and presented in this book by Danton O'Day for the first time. The nine illustrations are included in the text of FitzGerald's first version.
---
Khayyam in rhyme. Poem-to-poem translation of ruba'iyat. Reza Noubary. Meadville, Fulton Books, 2021. 150 p. ISBN: 9781649520647.
Noubary presents a poem-to-poem translation of some of Khayyam's popular Rubaiyat to English – both literally and conceptually. The translations follow the style of the original poems. It also includes some of the translator's/author's own poems inspired by Khayyam.
---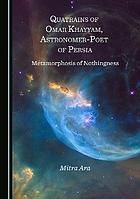 Quatrains of Omar Khayyam, Astronomer-Poet of Persia : Metamorphosis of Nothingness. Mitra Ara.
Newcastle-upon-Tyne : Cambridge Scholars Publisher, 2021. x, 237 p. ISBN: 9781527564480.
A selection of 100 quatrains, in Persian and English, that have been authenticated by four known Persian authorities (Foroughi, Hedayat, Ghani and Dashti). The author intends to bring the reader closer to the Persian originals, allowing readers to connect an draw their own conclusions according to their time and place.
---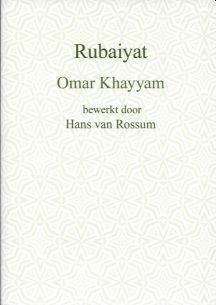 Rubaiyat. Omar Khayyam. Bewerkt door Hans van Rossum. Giethoorn, Duine, 2020. 144 p.
ISBN: 978-90-79726-17-2.
---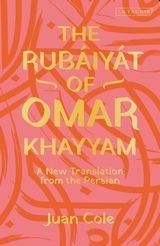 The rubáiyát of Omar Khayyám. A new translation from the Persian based on the edition of Mahmud Yerbudaki with a historical epilogue by Juan Cole. London ; New York [etc.], I.B. Tauris, 2020. 164 p.
ISBN: 978-0-7556-0052-6
---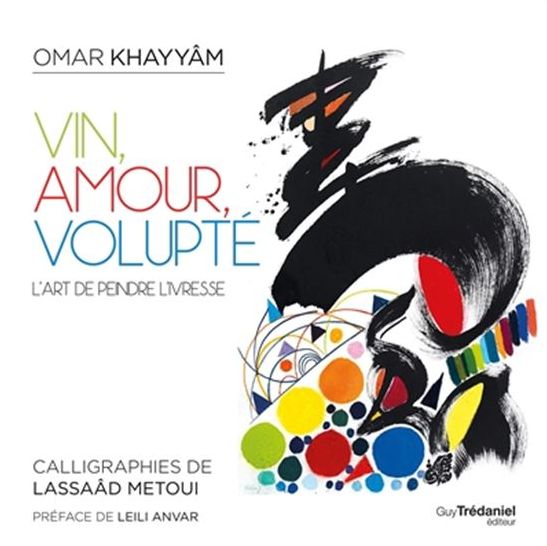 Omar Khayyâm. Vin, amour, volupté. Calligraphies de Lassaâd Metoui ; préface de Leili Anvar. Paris, Trédaniel, 2019. 261 p.
ISBN: 9782813221452.
---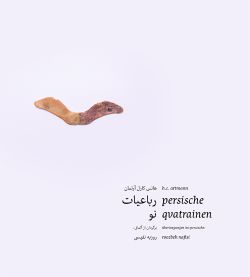 Persische Qvatrainen: übertragungen ins persische: roozbeh nafisi. By H.C. Artmann (Author), Yashar Nafisi, Doris Lang (Illustrator), Gunda König (Editor), Roozbeh Nafisi (Translator). Wien, Morawa Lesezirkel GmbH, 2019. 85 p.
ISBN: 978-3-99093-486-9 (eBook)
---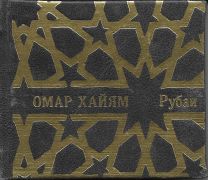 Omar Chajjam. Rubai. Cecilia Banu. Moskou; St. Peterburg, Letnii Sad; Universitetskaia Kniga, 2019. 145 p.
ISBN: 978-5-98856-398-3.
---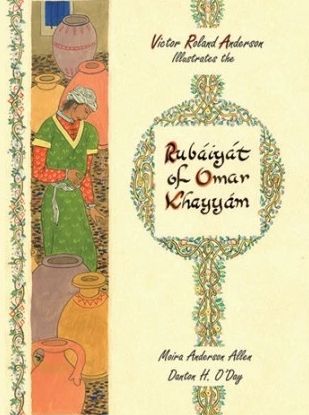 Victor Roland Anderson Illustrates the Rubaiyat of Omar Khayyam. Edited by Danton O'Day and Moira Anderson Allen. [S.l.], Blurb, 2019. 36 p.
ISBN: 978-0-46-425914-5.
---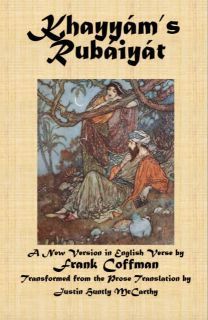 Khayyám's Rubáiyát. A new version in English verse by Frank Coffman. Transformed from the prose translation by Justin Huntly McCarthy. [S.l.], Bold Venture Press, 2019. 86 p.
ISBN: 9781097209286
---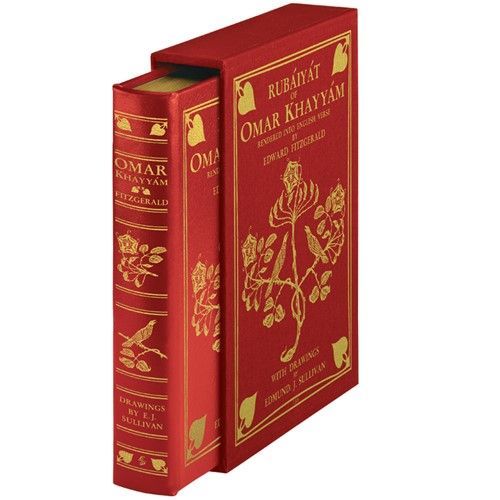 Rubáiyát of Omar Khayyám. Rendered into English verse by Edward FitzGerald. With drawings by Edmund J. Sullivan. London, Methuen & Co., [Easton Press], 2018.
---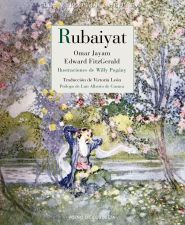 Rubaiyat. Omar Jayam / Edward FitzGerald. Ilustraciones de Willy Pogány. Traducción de Victoria León. Prólogo de Luis Alberto de Cuenca. Madrid, Reino de Cordelia, 2019. 124 p. (Los versos de Cordelia)
ISBN: 978-84-16968-94-7
---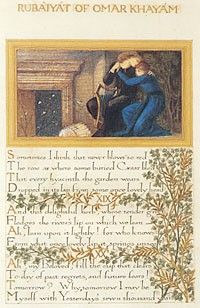 Rubáiyát of Omar Khayyám. [Translated by Edward FitzGerald; decorated by william Morris]. London, Folio Society, 2018. 23 pp.
---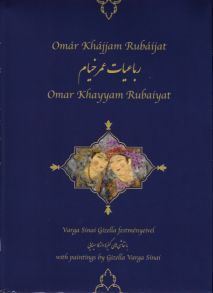 Omar Khayyam Rubaiyat. With paintings by Gizella Varga Sinai. Compiled by Németh Ágnes. Budapest, Kossuth Kiadó, 2018. [Unpag., ca. 117 pp.] ISBN: 978-963-09-9198-8
---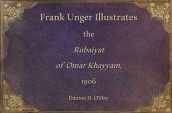 Frank Unger illustrates the Rubaiyat of Omar Khayyam, 1906.Danton O'Day. Emeritus Books, 2018. 96 pp. ISBN 978-0-46-471984-7.
---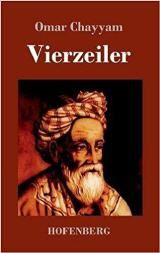 Omar Chayyam. Vierzeiler.Übersetzt von Adolf Friedrich Graf von Schack. [Edited by Karl-Maria Guth]. Berlin, Contumax – Hofenberg, 2018. 88 p. ISBN: 978-3-7437-2477-8.
---
A Cup of Forbidden Wine: The Rubaiyat of Khayyam (English – Persian Edition with Phonetics). Sajjad Khojasteh. [S.l.], Createspace, 2018. 111 p.
ISBN: 9781724386540
---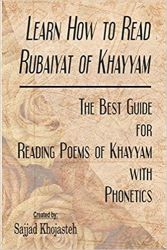 Learn How to Read Rubaiyat of Khayyam. The Best Guide for Reading Poems of Khayyam with Phonetics. Sajjad Khojasteh. [S.l.], Createspace, 2018. 106 p.
ISBN: 9781724200747.
---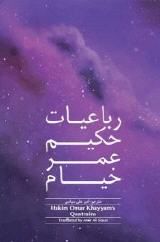 Hakim Omar Khayyam's Quatrains. Translated by Amir Ali Siassi. Blue Room Publishing, 2018. 89 p.
Available from Amazon.com as a Kindle e-book and as a paperback edition, and other e-book platforms.
---