Len Green recently published Rose Bay Rubaiyat, in which he highlights the history and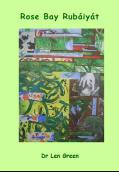 background of Khayyám's poetry. He also published some paraphrases, written by himself. The book Rose Bay Rubaiyat has been published not for profit, and with appropriate authorization it is currently available for sale in support of Médecins Sans Frontières – Doctors Without Borders.
The price of the book is AUD$22.00, and you can order it:
(a) by cheque or money order payable to: L. Green, C/O Robert Green PO Box 1151 Darlinghurst  NSW  1300 Australia.
(b) or visit: www.paypal.com.au and select "pay money". Enter Green's email address: lbzgreen@iprimus.com.au then email him at this address to advise payment. Don't forget to include a postal destination.