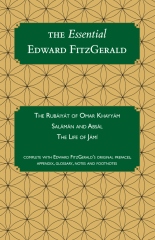 This is a newly published e-book with the main versions of FitzGerald's translation of the Rubáiyát of Omar Khayyám, (the first, second and fifth), and his translation of Jámí's Salámán and Absál. The work includes all the original notes and prefaces, together with an Appendix, Glossary and Endnotes.
This e-book, available in ePub-format, is published in the Carrigboy Classics Series, and was edited by Simon Prichard.  Carrigboy Cassics are a specially chosen series drawn from the very best of the World's classical literature.
The Essential Edward FitzGerald. Rubáiyát of Omar Khayyám. Salámán and Absál.   Translated by Edward FitzGerald. Compiled and Edited by Simon Prichard. Carrigboy Classics, 2014. ISBN 978-1-910388-00-6.
Available at CreateSpace, $12,67.