The Confluence of Wisdom Along the Silk Road. Omar Khayyam's Transformative Poetry. Mostafa Vaziri. [S.l.] : Vernon Press, 2021. 208 p. ISBN: 9781648893162.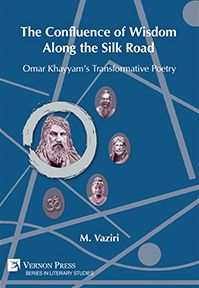 For centuries along the vibrant cultural corridor of the Silk Road of Central Asia, philosophers and thinkers from Hellenic, Chinese and Indian traditions debated existential issues. Out of this stimulating milieu, the iconic poet-mathematician Omar Khayyam emerged in the eleventh century, advancing a transformative intercultural philosophy in his poetic work, the Rubaiyat.
Vaziri traces the themes of Khayyam's Rubaiyat back to the highly influential philosophical traditions of the Silk Road and uncovers fascinating parallels in original works by Heraclitus, Zhuangzi (Daoism), Nagarjuna (Mahayana Buddhism), and the Upanishads. In addition, Vaziri's elegant translation and unique classification of the verses of the Rubaiyat reveal an existential roadmap laid out by Khayyam.
In this pioneering volume, Vaziri not only fuses the multiple disciplines of literature, philosophy, culture, history and medicine but also takes the approach of the Rubaiyat to a new level, presenting it as a source of wisdom therapy that stands the test of time in the face of doubt and confusion, offering a platform for self-restoration.
Contents
List of Figures
Prelude
Part I: Interwoven Philosophies of Life
Chapter 1 A Nexus of Wisdom on the Silk Road
Chapter 2 Life is Like a River: Heraclitus and Khayyam
Chapter 3 The Liberated Drunkard: Daoism and Wine in the Rubaiyat
Chapter 4 Self-Rule, Joy and Emptiness: The Bedrock of the Buddhist and Khayyamian Paths
Chapter 5 The Immortal Clay: An Echo of the Chandogya Upanishad in Khayyam's Allegory
Part II: Therapeutic Approach: Four Essays
Chapter 6 Poetry-Philosophy as Medicine: A Historical Background
Chapter 7 The Entrapped Mind and Psychosomatic Alarms
Chapter 8 Wisdom Therapy and Khayyam's Poetry
Chapter 9 Khayyamian Thought as a Psychological Alternative
Conclusion
Part III: The Quatrains
Chapter 10 The Flow of the Rubaiyat: New Translation and Classification
Bibliography
Index