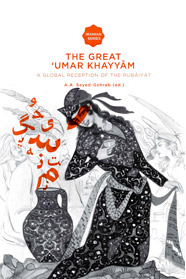 The book The Great 'Umar Khayyam, which consists of 18 essays about Khayyam's influence, shows that traces of Khayyam can be found throughout Western literature and culture. Dutch poets such as Leopold and Boutens were inspired by him, for instance, but the quatrains also made their mark in 20th century painting and music.
The volume is the result of a two days conference held in Leiden, July 2009, as part of a number of events that took place to celebrate the 150th anniversary of Edward FitzGerald's first version of The Rubáiyát of Omar Khayyám and the transaltor's 200th birthday.
Published in 2012, there is a digital edition available now. Click here.