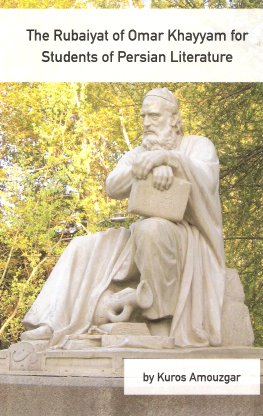 Kuros Amouzgar, educated as an engineer and living in the USA, translated the Persian text of Furughi and Ghani's edition of the Rubáiyát, to help his children's generation enjoy their Persian literary heritage. These children of Iranians living outside their homeland, often lack knowledge and understanding of the Persian language and literature. Khayyám is one of the most famous and well known Persian poets and his verses are easier to comprehend and to translate than other Persian poets.
This edition has the Persian text as well as a transliteration into Latin, a literal translation and a selection of 39 quatrains from FitzGerald's version. Also included are notes on the verses and a glossary of Persian words in the text.
The Rubaiyat of Omar Khayyam for students of Persian literature. 178 quatrains rendered phonetically in the original Persian and a literal English translation by Kuros Amouzgar. Bethesda, Ibex Publishers, 2012. 233 p. ISBN 978-1-58814-083-8.