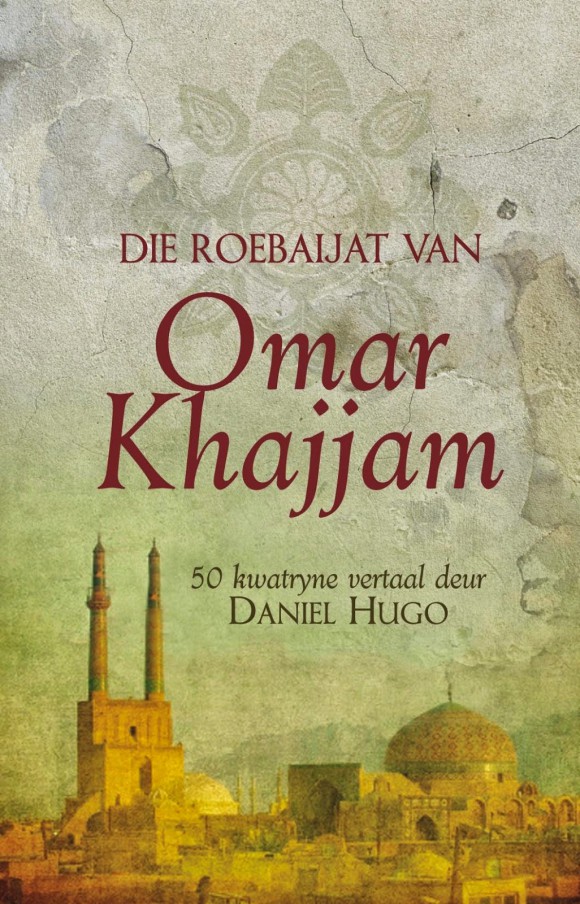 A new translation of the Rubáiyát into Afrikaans was recently published in Pretoria, South Africa, by Proteia Boekhuis. Daniel Hugo, poet and critic, selected fifty quatrains from FitzGerald's version, which he declares essential, the rest being reiterations. Long ago Hugo was struck by the translation of the Dutch poet J.H. Leopold, when he was a student. Now, forty years later, this resulted in a new publication called Die roebaijat van Omar Khajjam. 50 kwatryne vertaal deur Daniel Hugo.
Today we know of six translations in Afrikaans:
Die Rubáiyát van Omar Khayyám. Volgens die Engelse bewerking van Edward FitzGerald in Afrikaans oorgesit deur C.J. Langenhoven. [Kaapstad, Nasionale Pers Beperk, 1923]. (Also in: Die pad van Suid-Afrika, 1933).
Rubaijat van Omar Khajjam. Charles Herman Bosman. Kaapstad, Colin Reed-McDonald, 1948.
'Verse van die tentmaker, Omar, die Persiese digter'. C. Louis Leipoldt. In: Geseënde skaduwees. Johannesburg, Afrikaanse Pers-boekhandel, 1949.
Die onherwinbare hede. Ruba'ijat van Omar Chajjam. Verwerk door A. H. Jonker. Kaapstad, Juta & Kie., 1950.
Antwoord aan Omar Khayyám, met Vertaling van die Rubaiyat deur D.B. van Soelen. Pretoria, Unie-Boekhandel, 1965.
Rubáiyát van Omar Khayyám. Sebastiaan Basson. Rayton, Woordewinkel, 1994. ISBN 0620208589.
Listen to the interview with Daniel Hugo on the weekly RSG programme Vers en Klank  


The introduction (in Afrikaans) is also available at Neder-L, elektronisch tijdschrift voor de Nederlandistiek.
Die roebaijat van Omar Khajjam. 50 kwatryne vertaal deur Daniel Hugo, Protea Boekhuis, Pretoria, 2014, 80 pp., ISBN (gedrukte boek): 978-1-4853-0086-1, ISBN (e-boek): 978-1-4853-123-3.