Omar Khayyam. Poems. A modern translation. Siamak Akhavan. Eugene : Resource Publications, 2021. xv, 45 p. ISBN paperback: 9781666715507; ISBN hardcover: 9781666715514.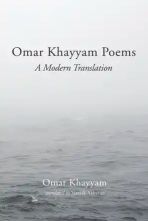 122 quatrains. Text in English and Persian.
"This book presents a selection of Khayyam's poems in their original Persian language along with their English translations in a faithful and modern version. By relying only on the original Persian version of Khayyam's poems, and using the author's own body of literary and linguistic knowledge, this book presents a modern translation of Omar Khayyam's poems since Edward Fitzgerald's Rubaiyat in 1859." [From back cover]
Nr. 1
'Beyond heavens' sphere is unseen,
around and about which all careen.

When your turn, be calm and sane.
Life's not a sole toil, cycles remain.